Cal Thomas
Syndicated Columnist
August 15, 2000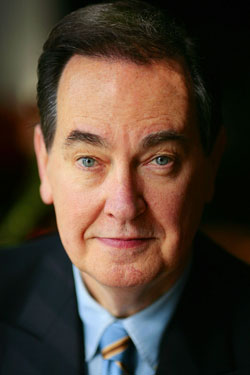 Gretchen "Loretta" Young died last Saturday at 87, ending a glorious life and, for me personally, a unique relationship.
Loretta Young first entered my life in the '50s through a door depicted on a black and white television screen. Her pirouette in a lovely dress was a statement of charm and grace.
When Loretta allowed my wife and me into her world less than a decade ago, following a "fan" letter I wrote to her, we joined an exclusive club whose members were never rivals for her attention and affections, which she gave freely. Instead, we felt ourselves members of a family who enjoyed each other's company because we all enjoyed hers.
Today there are celebrities in abundance, but there are few true stars. Loretta was a star. I saw her stop conversation as she entered a room. And I participated in talks with her, as a house guest, that my wife and I will never forget. She was generous with her love and with her life. Not many know of her unpublicized volunteer work at a Palm Springs hospice where she would minister to the afflicted, often telling them of God's love and the path to heaven. She was a strong pro-lifer. Her car displayed a bumper sticker that said "Your Mama was pro-life, dawlin'.
Loretta was a trailblazer for women in television as well as for good television. She also blazed fashion trails, frequently spinning through a door in Jean Louis gowns. The Academy Award-winning designer would become her husband as both entered their 80s.
There was an elegance about women of Loretta's age. "Great Dames, the writer Marie Brenner calls them. They survived sexism, before it became a word. They overcame personal challenges, of which Loretta experienced not a few. But they were troupers, in life and in their craft.
An example of her professionalism: While watching with her a rerun of "The Loretta Young Show" one night in her home, I asked her, "What do you look for in a television show that is more than 40 years old?'' She replied, "Oh, I'm thinking how I might have done that scene better.
Two years ago, I wrote a column to mark her 85th birthday. Hundreds of letters poured in to me and to her. Most were incredibly gracious, testifying to how people she had never met had been touched by her life. She couldn't believe the response. I could.
I will miss her company and her girlish charm, which attracted legions of men, and women, too. But I have most of her films (thanks to her permission to copy those I couldn't buy), and her picture is on every floor of our home. This isn't a "Sunset Boulevard" relationship, with the writer floating dead in the pool. It's just that my life and that of many others are the better for having known her.
Yes, these are the meanderings of a star-struck fan, but the fact is Loretta Young caressed and blessed so many lives beyond her own. Everyone who met her knows what I mean. And we know that what Lord Byron wrote about another woman in another century could well be applied to Loretta:
"She walks in beauty, like the night / Of cloudless climes and starry skies; / And all that's best of dark and bright / Meet in her aspect and her eyes.
"And on that cheek, and o'er that brow, so soft, so calm, yet eloquent, the smiles that win, the tints that glow, but tell of days in goodness spent. A mind at peace with all below, a heart whose love is innocent.''
Millions still love you, Loretta, and for us you are, and will remain, forever young.
copyright - Tribune Media Services. - Used by Permission