Forever Young
Forever Young, excerpted from the book "Forever Young," by Joan Wester Anderson. Used on this web site with the permission of the author.
Introduction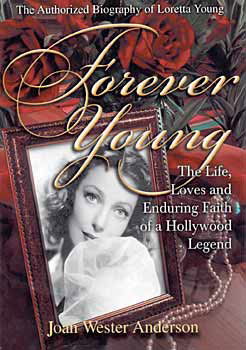 When handsome Earl Young came into the life of beautiful Gladys Royal in 1907, they had no idea that one day they would produce one of Hollywood's brightest, most enduring film stars. At the time, Gladys simply appeared to have been struck by lightning. She married her "Prince Charming" shortly after their first meeting and against her father's wishes. The newlyweds were both nineteen.

Earl Young worked as an auditor for the Denver, Rio Grande and Western Railroad, which required him to travel. During their first year together, she and Earl lived in Denver. All, however, was not bliss. Gladys suspected almost from the beginning that her handsome young husband was not being faithful to her. But, by 1908, they had born and christened their first child, Polly Ann.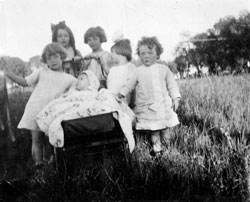 A second daughter, Betty Jane, was born in Salida, Colorado, on the way to Earl's new job assignment in Salt Lake City.

The growing Young family settled in Salt Lake City, but Gladys and Earl's relationship was now becoming estranged. One day, Gladys complained to the doctor of persistent flu-like symptoms. "You're not sick, Mrs. Young," the doctor said as he finished his exam, "You're just pregnant again."

Pregnant. The word, usually so joyous, dropped like a stone in her stomach. Not now, God, she heard herself praying. The doctor had noticed her reaction. He sat back casually in his chair. "You know, " he began quietly, "there's no need for you to have babies this regularly. Maybe you'd like to skip this one, and wait for a better time.
He was offering her an abortion. Gladys thought about her constant worry over finances, of Earl's ever-growing displeasure with her and their failing marriage - what kind of strain would yet another child place on their relationship? She wasn't ready! It was too much.

Then she thought of her Catholic faith. Abortion was forbidden to Catholics. The Church believed that every life, no matter how tiny or humble, had been sent by the Father. And who was wise enough to thwart the Father's plan?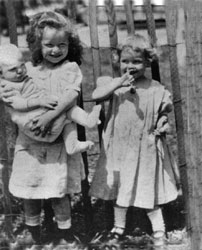 "I - I can't do it," she told the doctor. "I'm going to have the baby."

More suffering lay ahead for Gladys. In a few years she would bear a son, and Earl would abandon the family shortly afterwards, leaving her penniless and exhausted. But right now, on January 6, 1913, she bent over her newborn infant girl. "Hello, little Gretchen," she whispered. "Welcome to the world."
This child who she might have stopped from being born, the very child she had recently consecrated to the Virgin Mary, would grow to become one of the best known, respected actresses in America. But right now the future was hidden from Gladys' eyes.
Excerpts © copyright 2000 Joan Wester Anderson. All rights reserved