Film Clips
Few celebrities have enjoyed the professional longevity of the Hollywood movie and television legend Loretta Young, whose remarkable career spanned over seven decades - beginning as a child extra during the 'Silent Era', attaining star status during Hollywood's Golden Age, and continuing on into television as the host of her own popular series, The Loretta Young Show.
Loretta died on August 12, 2000, but her great screen presence - and that indefinable star quality she possessed - remain for us all to share. Here are some short clips from her movies and other performances, starting with an example of her very first starring role in Laugh Clown, Laugh with Lon Chaney - through her final screen performance in the NBC made for television movie, Lady In A Corner
Enjoy!
---

The Littlest Angel
TCM Tribute with Marlo Thomas
Loretta's Leading Men
Loretta's Children Remember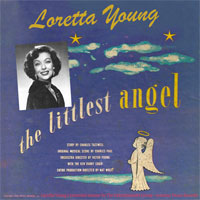 The Littlest Angel began as an unproduced radio script by Charles Tazewell, author of the children's book The Small One, back in 1939. The beloved and enduring Christmas story was first published in book form, then came to life when Loretta Young recorded the story with music by Victor Young for Decca records in 1945.

The heartwarming tale, written in just three days, is about a small boy's adjustment to being an angel in heaven and his humble gift to the holy infant. It has been reprinted countless times and translated into many languages and remained a holiday classic ever since.

Here Miss Young recounts in her own words how she, and her husband Tom Lewis, first became involved in the project, what it took to get it recorded, and how much the story meant to her.

Also, hear the entire original production as it first appeared on Decca Records.
The Story Behind The Littlest Angel
Loretta Young - Pictures Of The Past Music Video
Who's This Mystery Singer?
Lecture Series Introduction
The Loretta Young Show 1953 - 1961
Papal Visit to Los Angeles 1987
Interview with Entertainment This Week - 1986
Presents the Best Picture Academy Award - 1982
Mind of Her Own
The Bishop's Wife Trailer
Cause for Alarm Selected Scenes
Cause for Alarm 1951
Loretta Young Biography
Loretta's Dresses
Show of Shows 1929
Happy Birthday Hollywood 1987
Lady In A Corner 1989
Call of the Wild
The Wonderful Ones

The Stranger PT 1
Loretta Young Music Video - Vogue