Christopher Lewis
Son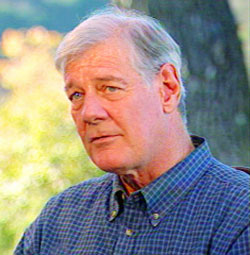 Not too long before she died, Mom and I went to dinner together at her favorite Mexican restaurant in Palm Springs. El Mirasol was crowded that evening. As we stood at the bar waiting for our table, a couple who were seated alone in a large booth invited us to join them. Normally Mom would have graciously accepted, we would have met two new friends - and had a free meal. But not that night. Instead, she kindly declined saying she and I had family business to discuss.
Once we were seated, I realized that this was the first time in our lives that my mother and I had ever had a meal together - without family or friends sharing it with us.
Sure, we'd eaten thousands of meals together, but always around a table full of family, friends and conversation. That was the thing about my mother, she was an accomplished hostess and loved people. One of the great joys of my life was showing up at her house for dinner. You never knew who'd be eating at the table with you. She had a wide circle of friends, and she seldom dined alone.
But, that night was the first time - in the midst of a crowded restaurant - that just the two of us were sharing a meal.
She talked about the old days, when she was dating a famous leading man (who also happened to be a Catholic - and married). She told me how they had a standing date every Saturday, and how they would start the evening by stopping by St. Paul's church in Westwood so she could go to 'confession'.
One afternoon, while he waited outside, she told me she confessed to the priest - among other things - that she was dating a married man. This priest, she said, would not give her absolution unless she promised to call off her 'date' and stop seeing the man.
"I can't." she protested, "He's outside in the car and we've got reservations at Tracadero". It did no good. The priest absolutely refused to forgive that sin.
But then, in what was quintessential Mom, she told me that she simply went across the church to another priest, who did give her absolution - and she was off to a night of dancing!
Now ordinarily, if I had pointed out to her in front of her guests at dinner how hypocritical it was to profess to be a good Catholic, then to pick and choose which rules you obey - well, let's just say I would have spoiled the evening!
But that night, Mom just looked at me and smiled. "I never thought about it that way".
We talked about how bad her sense of direction was - and how long my brother and I (aged 9 & 10) would wait in the back seat of the car before we mentioned that she was driving us north, toward Santa Barbara, when we should have been going South, toward home.
We talked about the excuse she gave to the highway patrol officer when she was given a ticket for not wearing her seat belt. "I never wear a seat belt. It wrinkles my dress".
And we reminisced about my first job on her TV show. At age 11, during holiday from military school, I was given the responsibility to warn everybody not to enter the sound stage during filming by turning on a warning light and ringing a bell. I've been hooked on show biz ever since.
"I only have one regret in life." She told me as we finished our meal. "That I didn't get to be a better mother to you kids".
I assured her that she was a GREAT mother. Sure, her work demanded a lot of her time, but the rewards - the money, friends, travel, and her legacy were well, well worth it. And we had been well cared for.
"I'm not talking about you kids," she explained. "I regret that I never got to change your diapers, or give you a bath, or help you with your homework. That's my only real regret".
My relationship with Mom changed that night at El Mirasol. I guess it was because there was no one else at the table who either of us had to impress. It was subtle, but that night I became more than just her son. We had a great time.
While I drove her home we vowed to do it again, soon - but that was not to be.
As the Millennium approached, Mom's health began to fail. She went out less and less, and the dinners she hosted at home became fewer and fewer - and finally stopped.
Now, I have an only regret in my life; that we didn't make it a habit to eat out together thirty years earlier.