Judy Lewis
daughter
November 6, 1935 – November 25, 2011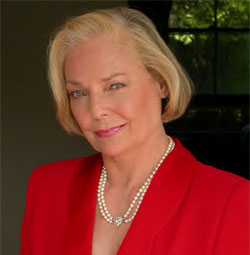 Mom loved to sew, it was her recreation, her solace and her zen.
My mother's hands were gloriously creative, just as she was. She didn't like the sewing machine. She preferred to sew seams and hems by hand, and she could make almost anything. She sewed a lot of her own clothes, but the scarves and caftans she made for her family and friends were works of art.
I remember one particular Christmas, I was a teen-ager and she beaded a beautiful pink round necked cashmere sweater with gold braid and large amber, pink, purple and crystal stones. I wore it with a matching pink skirt. I was so proud to say that my mother made this for me. It was gorgeous.
Another time chiffon scarves that tied around the neck were in fashion. Mom beaded the edges with matching small crystal and large pearl beads. Of course when she wore one, all her women friends (and even total strangers) commented on them and wanted one. The demand was more than she could, or cared to, supply. And so, I took over for her and ended up sewing a large number of beaded scarves for I.Magnin Company, a very upscale department store in Beverly Hills.
I inherited my mother's love of clothes, and from the time I was very young she insisted that I take sewing lessons. I didn't have much patience and when I showed my mother the first dress I made, (sloppily) she told me to take it all apart and start over, basting the seams first before sewing them on the machine. I did, and never regretted it.
I made some beautiful prom dresses, suits, coats, even hats after that. I got so proficient that together, my mother and I would leaf through the pages of Vogue magazine and then I'd copy the dress that I admired.
I'm very grateful to Mom for her persistence. I made my own daughter's clothes when she was small - and loved doing it - thanks to Mom.