Salvador Iglesias
Fans turned friends
(from Salvador)
HOW WE MET LORETTA YOUNG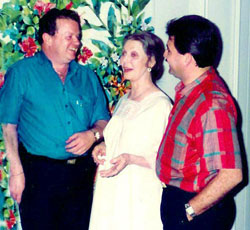 In the early 1960's I attended Catholic School in Puerto Rico. I left classes at 1:30 to have lunch at home and would always watch television while I ate and did my assignments.
One day I was going through the channels and saw this beautiful elegant lady coming through a door and immediately it caught my attention. It was the Loretta Young Show.  I clearly remember, that first show was titled "Royal Partners" which was to continue the next day, and when Miss Young said "Will I see you next week?" it was really the next day in Puerto Rico.
The next day and everyday after that I would run home to be there on time to see when she opened the doors, and I became the number one fan of Loretta Young. Immediately I started a collection from movie magazines clippings.
I remember my good friend Judith, who was collecting Troy Donahue photos from "Surfside Six," exchanged clippings with me. If I did not have a Loretta Young clipping she would sell me one of hers for ten cents. This is how I started my very first memorabilia album of Loretta. I still have it today, a very dear item in what has grown into a large collection. During the following forty years, I would look for memorabilia shops or fairs where I could continue buying anything that had to do with Loretta.
My biggest dream was to meet Loretta Young in person. I wrote several letters to her at the movie studios and never received a response. By then, the 1970's, she had retired from television.
On one of my trips to Los Angeles, California, I was able to secure the address of Ricardo Montalban who was her brother-in-law, and I left a letter to Loretta in his mailbox, but of course this was never answered.
Then, in 1982, an article came out in the newspaper; a number of very well known people would be in attendance at the Metropolitan Museum of Art in New York to celebrate the 50th anniversary of the famous Jeweler Harry Winston. Among the guests would be Loretta Young.
I had become a good friend of Glenn Clarke, the President of the Major Corporation Foundation, a contributor to the museum. I immediately called Glenn to see if it was possible to get two invitations to attend the affair. He called two hours later and told me he had three invitations so he could attend with me. Manuel, a friend of mine, and Glen and I would be attending the event which would be held November 30th, 1982.
We flew to New York and we went to this black tie affair, and I was very nervous and concerned that Miss Young might cancel; as this was the chance I had waited on for over 42 years, to meet Loretta Young, a dream come true. I was also concerned as to what would be her reaction in meeting a fan.
Suddenly, after a big rush of excitement and hundreds of photographer's flashes, Loretta arrived, the star of the night, with Jean Louis and his wife Maggie. I was in shock, as finally I had seen her, and my first impressions were that she was short; she was truly elegant like the movie star she was, but she was wearing flat shoes. She told me later she had twisted an ankle and could not wear high heels, but she was so beautiful in a black dress and emerald and diamond jewels.
Little by little, I was getting closer to her until I was formally introduced. Immediately there was a connection, and we started to have a nice conversation. I told her what a fan I had been for so many years. I had also had taken two real nice large photos of her with me from my collection, one of her receiving the Oscar and the other one of her opening a set of doors, and she liked them very much and showed them to Jean Louis.
Since the second photo was one of his dresses, she signed both photos for me. We spent late into the night together having a great conversation, and she was gracious, lovely and sweet. I thought I was dreaming, that it was not real, and I did not want to wake up from this wonderful dream, but it was real, as there I was in front of my movie star and having a real friendly conversation, what a night.
She mentioned where she was staying, so the next day I sent her the largest arrangement of red roses that I could find thanking her for a lovely evening and the immense pleasure of meeting her, and in the card I included my address in Puerto Rico. A few weeks later, what a surprise, I received a very large envelope from Loretta with photos that had never been published including some family photos. She said she wanted me to have photos that no one else had, and she also invited me to come and visit with her in California and to please call her and arrange it.
The following summer, I called and spoke to her housekeeper, Mary Coney. Loretta called me back, and I told her I would be in LA for a week, and she invited us to come to her sister, Polly Ann Young's home, since she was there taking care of her mother who was ill.
Loretta asked me if I was Catholic, and when I said yes, she invited me to go to Mass with her.
During the visit, I showed her other albums of photos that I had brought with me, and she also gave me more photos from her personal files. During the week I was in LA, we went to Mass with her several times and ate dinner at different restaurants, and from this visit, a very close friendship was born that lasted until she passed away.
LORETTA YOUNG ROLLS ROYCE SCARE
On one of the many trips Manuel and I made to visit with Loretta at her Beverly Hills home, she opened the garage and pulled her Rolls Royce out. She left the car right under the garage door, so I could look into her many films stored in her garage – just in case I found anything that might interest me for my collection.
Loretta was in the kitchen with Manuel, planning a big dinner for that night, as Manuel was going to cook a Hispanic meal. When I finished looking through the films, I went to turn off the lights and pressed the garage door switch. The door started to come down on the car, and I got scared to death and held the door open so it would not crush the top of the car, as I called their names so loudly that they came running to the garage.
There I was holding the door with all my power, and then they hit the switch again, and the door opened. Nothing happened to the car, but it was one of the scariest moments of my life.
We continued to go visit Loretta several times each year, and we always got together, and this continued even after she moved to Palm Springs. I had the great opportunity to meet and share nice times with her family and many other movie stars, her last husband Jean Louis, and we attend several of her birthday celebrations.
PALM SPRING, CALIFORNIA, JANUARY 6, 1993
Manuel and I were invited to Loretta Young's 80th birthday party at the Thunderbird Country Club in Rancho Mirage.
The arrangement was for Manuel and me to pick up Loretta Young and Jean Louis at church after mass at about 8:00 pm and take them to the party. We left the hotel and got to the church in about twenty minutes, but Mass was over and the parking lot was empty.
We could not see Loretta's car anywhere, We started looking, but they were nowhere to be found. Assuming they had gone ahead because we had not arrived when Mass ended, Manuel and I simply drove on to the country club, about half an hour away.
When we got to the party, everyone yelled "SURPRISE" as we entered the door – but the surprise was there was no "birthday lady" anywhere to be found. Not with us. Not at the party.
We almost fainted and after mentioning that we could not find Loretta or Jean at the church, her son Christopher came over and said, lets go back and get "MOM".
Chris was joking all the way to the church - while we felt so concerned. When we got there, Loretta and Jean Louis where sitting in her car. Her face was not a very happy face, but we explained to her everything that happened. We were concerned she would be mad, but when we got to the party, she saw so many good friends that she forgot everything, and we had a great time, took many photos and movies and sang Happy Birthday to her when the time came. It was one of the best times we ever had with her.
Today I miss her very much, and she was and still is - through my collection - an important part of my life. She was a real lady and a good friend.
I want to finish this with one of the dedications she wrote for me. It said;
To Salvador, from a fan to a very dear friend, what a joy, Loretta.