Sandy Schreier
fashion diva - author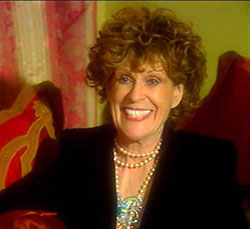 Loretta was always my favorite TV personality. When I was a little girl I watched the Loretta Young Show and I gasped every time she twirled through that door.
When I was a little girl, I would put on my mothers' dresses and, during my parents monthly card game, I would throw the door open, burst out of the closet and sing Loretta's theme - twirling, a-la Loretta Young, my favorite TV personality.
But I thought I was alone. I wasn't alone. I was probably one of millions of woman who watched that and remember it to this day and love Loretta Young.
Unlike other TV personalities of the period, Loretta was glamorous.  Loretta had the figure of a model, and yet it wasn't like looking at Vogue and Bazaar magazine where it's not three dimension - they're not real people. Loretta was real, She was sweet and nice and came into your home looking like a Vogue Magazine model. She became a member of the family, yet she was so glamorous that we all wanted to imitate and wear what she wore.
I met Loretta for the first time when I went to interview costume designer Jean Louis at his home. Of course, he did a lot of Loretta's clothes for the Loretta Young Show. He knew that I was crazy about Loretta Young, so he had a luncheon in my honor - and who was the guest of honor, along with me? None other than the beautiful Loretta Young. I thought I'd died and went to heaven. Loretta Young in person, looking as glamorous as she did on TV in the 50s and early 60s.
Loretta was a really sweet, down to earth person. At least, that's how she came across to me. She was a movie star who was interested in what was going on in the world. She was a movie star who was hip and with-it and, years later when I wrote my book about Hollywood costuming, I asked Loretta to do the introduction to the book and she was only too thrilled and invited me to be her house guest.
When I was there at the house, it didn't surprise me at all that Loretta was so hip, in her 80's, that she was still wearing high heels. She was click, click, clicking along those marble floors in high heels.  
And believe it or not, she could program her own VCR. Now, what other woman, or man, in her 80's would know how to do that today?